Great River Publishing is pleased to announce that the KINDLE release of
Michael Gillespie's entertaining new railroad history is now available online.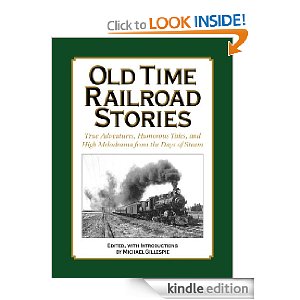 RAILROAD STORIES..True Adventures, Humorous Tales, and High Melodrama from the Days of Steam [Kindle Edition]
Click on cover image to explore a sample edition ONLINE or to download a sample directly to your Kindle!
In this 340 page collection of old railroading stories, Michael applies his generous wit, dry humor, and historical insights to the school of railroading literature at the height of the steam era … journals, press reports, trade magazines all produced stories meant at the time to entertain readers… but which today offer a compelling folk history from the early days of railroads.